Rowa
n Saffron by Kim Hargreaves
Most recently started a
cardi
for Captain Eco's mum. I've had to wait 8 weeks for the yarn to arrive (Rowan
Purelife
Organic Cotton) - it feels amazing, but I had hoped to have it finished by now!
It's a substitution yarn and I've been a good girl and done all my tension squares. The yarn's thicker than the pattern recommends so I've had to get my maths hat on and rework the pattern to suit the tension I'm getting. Which is fine. Unless I try to work it out late at night when I'm tired. That'll be why I've started the back 3 times so far, forgetting that with a picot cast on you need to start with 3 times the stitches you want to end up with.
Annoyingly, I'd got it right first time around.
Grrr
... Still, 3rd time's
allegedly
the charm.
It's going ok so far. Finger's crossed I don't bugger up the embroidery at the end - sewing's not my strong point. Crafty Chick's a brilliant sewer and Knitting Queen's recently taken up free style embroidery so I'll seek advice nearer the time. Nothing like pushing your comfort zone a little now and then.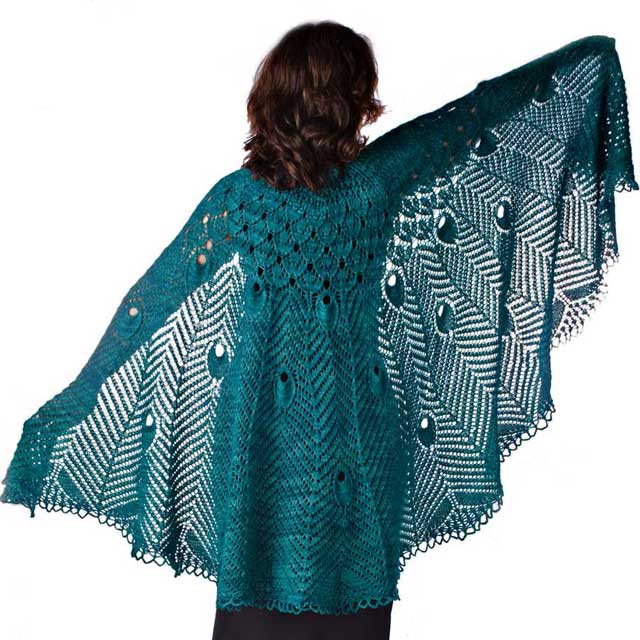 Talking of pushing comfort zones, will soon be embarking on a project for my best friend Flower Girl. She's getting married in November and I'm making her something to keep her shoulders warm. Quite ambitious but I'm up for the challenge - a combo of
Pretty as a Peacock
shawl for the lace pattern (left) and this kind of shape/size (right). Could take a while...
And just because I haven't quite got enough projects on the go at the moment, I came across a gorgeous little craft/wool/lovely things shop on the South Bank under the Oxo tower called
Eco Annie
. She creates her own eco yarns and stocks a whole selection of other ones. As usual my wooldar was on full beam (like gaydar but for wool) and didn't realise it stocked wool until Captain Eco pointed it out - I was too enthralled by the beaded things in the window to notice the wool at the back. Couldn't resist some silky soft chocolate bamboo which is for this Karabella pattern (left). I'm not going to start that until I've finished the Rowan Saffron cardi, the Knitty halterneck and am at least halfway through the prototype for Flower Girl's shawl. Promise.